As we enter the new year, it's important for businesses to stay up-to-date on the latest website design trends. Here are a few key trends to watch in 2023: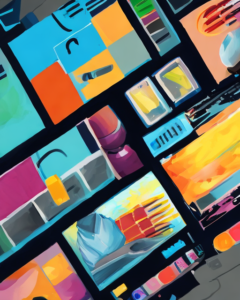 Minimalism: Minimalist design has been popular for a few years now, and it's not going anywhere. This trend is all about simplicity, with clean lines, minimal graphics, and plenty of white space. Minimalist design can help create a sense of calm and clarity, which is especially important in the fast-paced world of ecommerce. By using a minimalist design, businesses can help customers focus on what's important and make it easier for them to navigate the website.
Bold color palettes: While minimalism is still in, bold color palettes are also making a comeback. This trend is all about using bold, vibrant colors to create a sense of energy and excitement. This can be especially useful for businesses looking to make a splash and stand out from the competition. By using bold colors, businesses can help draw the attention of customers and create an emotional connection with them.
Responsive design: With more and more people accessing the internet on their phones and tablets, it's essential for websites to be mobile-friendly. Responsive design is a trend that ensures that websites automatically adjust to fit the screen size of the device being used, which makes it easier for customers to shop on the go. By using responsive design, businesses can ensure that their website is accessible
If you're considering a new website in the coming year, now is the perfect time. A well-designed website is essential for businesses looking to succeed in today's digital landscape, and there are several trends to consider that can help ensure your website stands out and drives conversions. From minimalist design and bold color palettes to responsive design and the use of video, there are many ways to create an engaging and effective website. Don't miss out on the many benefits of a new website – start planning your website redesign today and watch your business grow in the coming year.